2022 Akron Zips Preview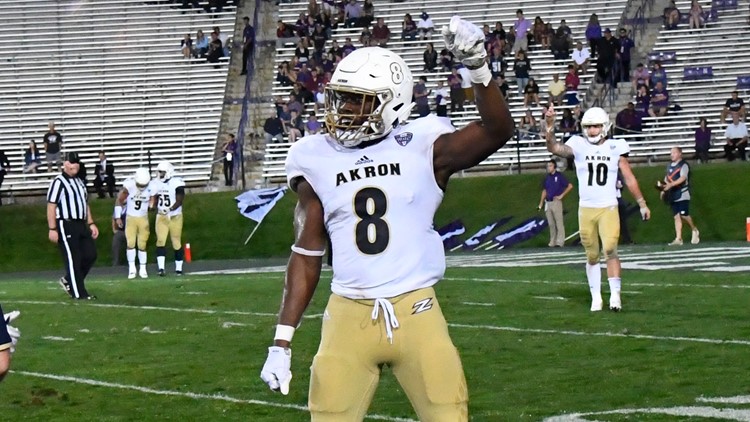 Akron Zips
2021-22 Season Record 2-10 (1-7 MAC) - 5-7-0 ATS - 6-5-1 O/U
Returning Starters
Offense - 6
Defense - 6
Overview
Akron has been a fledging program for years as it is coming off another losing season and since 2006, the Zips have produced only one winning record which was in 2015. New head coach Joe Moorhead took over the program in December, replacing Tom Arth who went 3-24 in three seasons and his first goal is to make the Zips competitive for the first time in years. Two of those wins came against Bowling Green and the other against non-FBS Bryant and last season, eight of the 10 losses came by double-digits. Akron is in the middle of the FBS in returning production with the defense ranked No. 19 but this is not necessarily a good thing. The MAC is weak as only two teams finished last season with more than seven wins but it will take a gigantic effort for the Zips to come close to a .500 record as they have a tough schedule that is frontloaded to expect a rough start.
Offense
Moorhead will try and turn around an unproductive offense that finished No. 106 overall and while he has the pedigree to do so, it will take more than one year. The strength of the offense will be the running game as Akron returns leading rusher Jonzell Norrils and also gets a solid transfer in Cam Wiley who comes over from Minnesota. It had only eight rushing touchdowns last season so there is nowhere to go but up. The passing game could be in trouble as the Zips have to replace their starting quarterback and their two leading receivers and this is where Moorhead will have to work wonders. DJ Irons, Jr. is capable as he completed 65 percent of his passes after taking over for Zach Gibson, who has left the program, and he is behind an offensive line that allowed the most sacks in the country last season. Three starters return up front which is a good building block.
Defense
While the offense was bad, the defense was even worse. Akron allowed 474 points last season which was the most in the MAC and it was ranked No. 122 in total defense, No. 128 in rushing defense and No. 55 in passing defense. While that last ranking looks ok, it is skewed as Zips opponents did not have to pass and when they did, Akron allowed 8.77 yards per attempt which was tied for fifth worst in the nation. The strength, if you can call it that, is a veteran secondary but they were put on an island as the Zips lacked a productive pass rush. Four of their top five tacklers are back but this will matter little if they cannot stop opposing offenses when it counts as Akron finished tied for last in the country in third down defense, allowing opponents to convert 54.2 percent of their opportunities. There are solid pieces in place but not enough for a big upward turnaround.
2022 Season Outlook
The good news for the Zips is that they will start the season 1-0 as they open with St. Francis but it is an uphill battle after that with five of their next six games taking place on the road. It has been a rebuild for a few years and Arth did nothing to make it better so while Moorhead was one of the better new hires, it will not happen overnight. While the running game will be the focal point, the Zips are going to try and play faster with a system similar to that of Oregon and it will be up to Irons, Jr. to make quick decisions on the fly. Akron has just three wins in the last three years so its regular season O/U of 2.5 wins is justified and all it should take is one upset along the way as the other likely victory is a home game against Bowling Green. The Zips enter the campaign ranked No. 127 in the preseason power ratings so clearly not much is expected but we should at least see a more competitive team.