2022 UTSA Roadrunners Preview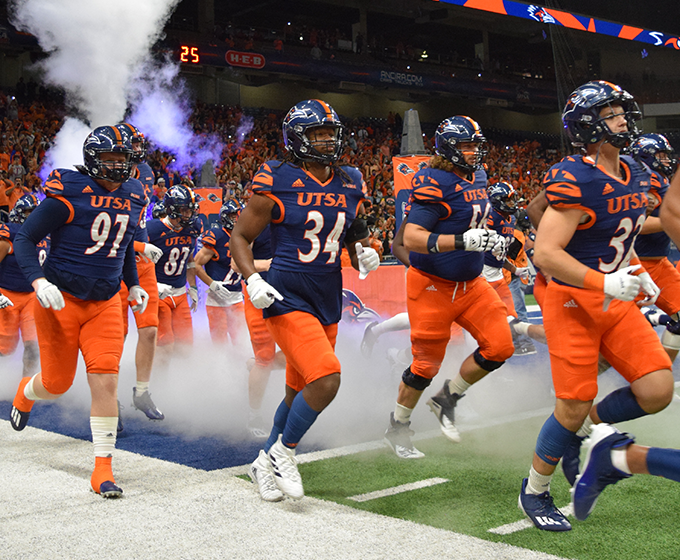 UTSA Roadrunners
2021-22 Season Record 12-2 (7-1 C-USA West) - 9-5-0 ATS - 8-6-0 O/U
Returning Starters
Offense - 8
Defense - 6
Overview
A decade of UTSA football is in the books and it ended in spectacular fashion as the Roadrunners easily smashed the program win total with a 12-2 record and won their first C-USA Championship. Previous head coaches Larry Coker had two winning seasons while Frank Wilson had one and neither could keep the consistent winning going in their four years apiece. Current head coach Jeff Traylor enters his third season after posting winning records in each of his first two for a combined 19-7 mark and his days at UTSA may be numbered, in a good way. The Roadrunners were consistent on both sides of the ball last season as they jumped out to an 11-0 start before getting dominated at North Texas in the regular season finale. Only 13 starters return but they have a returning production ranking of No. 22 to go along with one of the best recruiting classes in the history of the program.
Offense
UTSA has increased its offensive production each of the last four seasons and by a lot. It improved the yardage by nearly 200 ypg from 2018, nearly 100 ypg from 2019 and 24 ypg from 2020 as it finished No. 26 in total offense and No. 12 in scoring offense, averaging 445.0 ypg and 37.8 ppg respectively. The majority of the offense is back with eight returning starters led by quarterback Frank Harris who threw for 3,177 yards with 27 touchdowns and just six interceptions while completing nearly two-thirds of his throws. This will be his third season as the starter in this system under Traylor and it could be his best one yet. He gets his top three receivers back as well as his tight end so the passing game is set. They lost running back Sincere McCormick and his 1,479 yards to the NFL but there is depth that will be running behind a great offensive line that has four starters back.
Defense
While the offense has dramatically improved over the last four years, the defense has as well just not quite to the same extent. Overall, UTSA was No. 48 in total defense and No. 44 in scoring defense but it was inconsistent, holding four opponents to fewer than 200 total yards but allowing an average of 496.8 ypg over the last four games as they wore down at the end. Unlike the offense, many holes need to be filled on this side but the retuning group is talented. The linebacking corps will be the strength as Jamal Ligon, Trevor Harmanson and Dadrian Taylor combined for 166 tackles, 4.5 sacks and three interceptions and will again be an integral part in stopping the run. The defensive line has two veterans back including Trumaine Bell II who was second on the team with five sacks. The secondary is solid with safety Rashad Wisdom heading the group after leading the team with 87 tackles.
2022 Season Outlook
This is the final season for UTSA in C-USA as next season it heads to the AAC to help the conference ease the pain of losing Cincinnati, Houston and UCF to the Big 12 so getting out of here with two consecutive C-USA Championships is the goal and they have the personnel to do so. The Roadrunners also have a favorable conference schedule and they come in as the slight favorite to win the conference. They open the season with a big home game against Houston before a pair of tough road games at Army and at Texas before concluding the nonconference slate at home against Texas Southern. As for the C-USA slate, they get North Texas and Western Kentucky at home and go on the road at UAB while missing Florida Atlantic. The O/U win total is set at 8.5 and that seems a tad high with those three tough road games not to mention Houston and Western Kentucky at home. A likely pass.