2022 Kentucky Wildcats Preview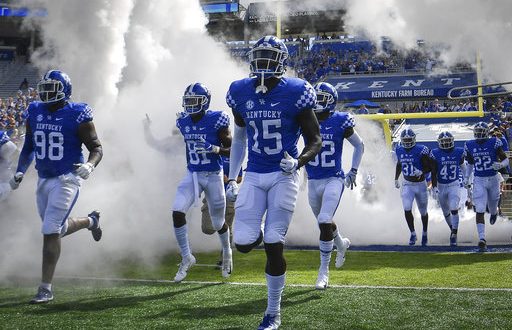 Kentucky Wildcats
2021-22 Season Record 10-3 (5-3 SEC East) - 8-4-1 ATS - 8-5-0 O/U
Returning Starters
Offense - 6
Defense - 5
Overview
Kentucky football is relevant once again. After the Joker Phillips experiment failed after three losing seasons, Mark Stoops took over as head coach in 2013 and while he too started off with three losing seasons, he came in with a plan as he had nothing to work with from the start and it has paid off with five winning campaigns in the last six years, the lone exception being a 5-6 COVID season, and the Wildcats are currently on a six-season bowl run. They look to extend that to seven this season and while Kentucky returns only 11 starters, you do not have to look back too far as that was the number that came back last season and the Wildcats went 10-3 with one of those losses coming by three points. A lot of teams would struggle with that lack of starting experience but it is different here as numerous players have made spot starts and received important playing time. The linesmakers know this with the projected 7.5 wins for 2022.
Offense
The offense had its share of ups and downs last season but it was mostly the latter and the Wildcats finished No. 43 in total offense and No. 30 in scoring offense. They had a midseason funk but poured it on late, averaging 46.0 ppg in their final four regular season games. The offense has six starters back and most importantly, one of those is quarterback Will Levis who completed over 66 percent of his passes for 2,593 yards with 23 touchdowns, while also running for nine scores, and 12 interceptions and those picks do need to come down. Along with him, the other mainstay is running back Christopher Rodriguez, Jr. who ran for 1,378 yards and 10 touchdowns and he should be a horse again. After that, things get a little dicey but help is on the way. Levis loses his top two receivers but there is depth and experience along with some key transfers coming in. The offensive line has to replace three starters but should come together.
Defense
There have been some very good defenses over the last few years and last season was extremely solid, finishing No. 26 in total defense and No. 32 in scoring defense. The Wildcats allowed 17 points or less six times and they were gashed really only once, allowing 45 points in a loss by three points to rival Tennessee. Five starters are back, the same as last season, and the big ones are in the middle which is key. Linebacker Jacquez Jones led the team in tackles with 82 and will be paired up with J.J. Weaver who led Kentucky with 6.5 sacks while De'Andre Square and his 81 tackles rounds out the corps. The defensive line is somewhat inexperienced but it is massive and should be fine against the run where Kentucky finished No. 16 in the country last season. The secondary has good experience and has a solid cornerback in Carrington Valentine who finished with 61 tackles but the team needs more turnovers as they had just five interceptions.
2022 Season Outlook
Always known as a hoops school, Kentucky football always played second fiddle and while it will probably never pass the basketball program in popularity or success, there is definitely an upward trend. Stoops has had offers to move to bigger football schools but he has stayed put to watch this program grow into its own. As with every SEC Team, the schedule is difficult but very doable. They have three nonconference home wins in September sandwiched around a big game at Florida. They also have Mississippi and Tennessee on the road and the toughest opponent will be Georgia which is at home. The Wildcats miss Alabama, Auburn, Arkansas, LSU and Texas A&M out of the West Division and that is big. The O/U win total is 7.5 and looking at the schedule, a 6-3 start looks about right and the final three games are at home against Vanderbilt, Georgia and Louisville so it will take a couple upsets along the way to cash the over.