2022 Oklahoma St. Cowboys Preview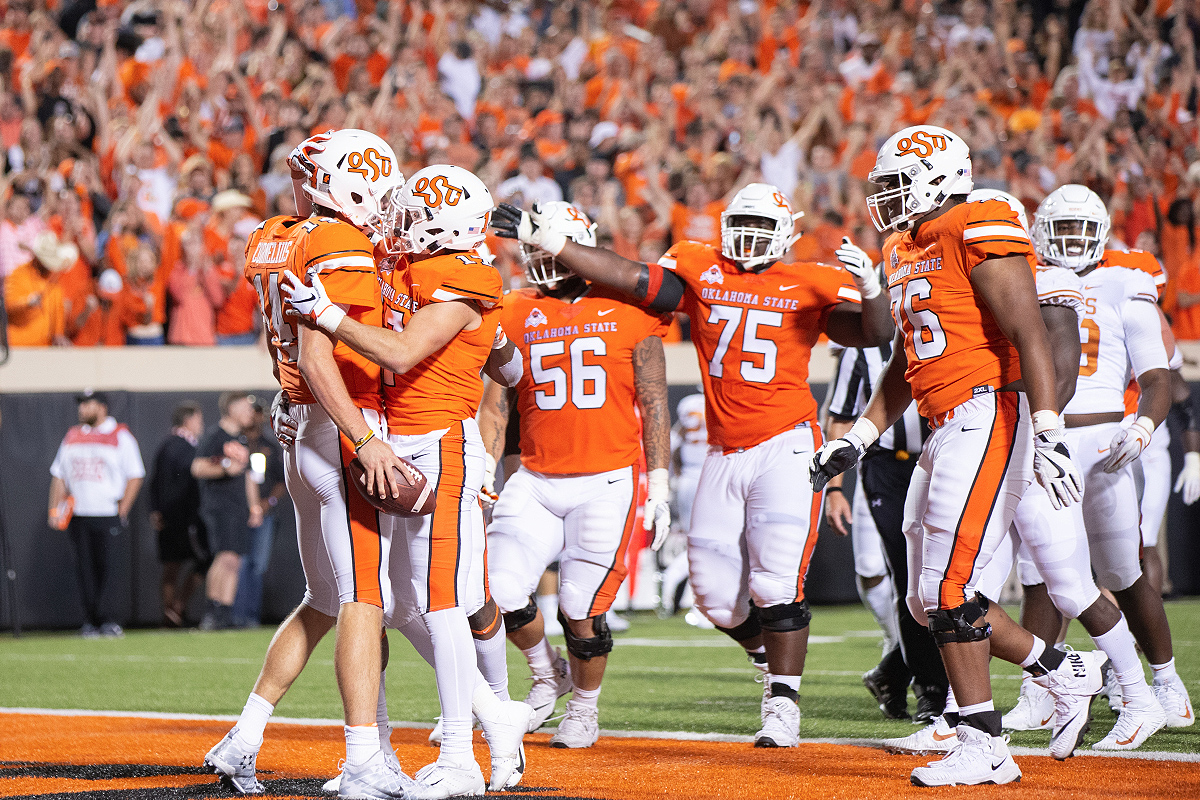 Oklahoma St. Cowboys
2021-22 Season Record 12-2 (8-1 Big 12) - 10-3-1 ATS - 5-8-1 O/U
Returning Starters
Offense - 7
Defense - 4
Overview
Oklahoma St. is coming off its best season since 2011 when it went 12-1 and finished No. 3 in the AP Poll as the Cowboys were 12-2 in 2021, the two losses by a combined eight points, and closed the season No. 7 in the rankings. It could have been a really special season as those two defeats could have gone the other way with chances late in both, but the Cowboys have to move on in what should be another solid season but there is work to do. Head coach Mike Gundy has been as consistent as they come as in his 17 years at Oklahoma St., he has put together 16 consecutive winning seasons after a 4-7 first year and has led the Cowboys to an 11-5 bowl record. They got the job done last year with just 13 returning starters and have only 11 coming back this season and the returning production ranking is a rough No. 118 but a cupcake nonconference schedule can get them out fast.
Offense
The offense has regressed in a big way since finishing No. 14 in the country in total offense in 2018 as the Cowboys have ranked No. 17, No. 40 and No. 66 the last three seasons. They scored fewer than 30 points eight times and the hope is quarterback Spencer Sanders can finally come into his own. He was named First Team Big 12 last season despite completing 62 percent of his passes and throwing 12 interceptions and he needs to be more consistent. The receiving corps is loaded despite losing Tay Martin who hauled in 80 passes for 1,046 yards and 10 touchdowns as seven players return that had at least 100 yards receiving including four with over 200. The Cowboys will also have to move on without leading rusher Jaylen Warren who will be replaced by Dominic Richardson who had just 373 yards. The offensive line will be fine with three starters back that was excellent in pass protection.
Defense
The offense did not have to be great because the defense was as Oklahoma St. finished No. 3 overall and No. 8 in points allowed but there is a ton of turnover heading into 2022. The Cowboys led the nation in sacks with 57 as they got to the opposing quarterback over four times per game but all is not lost as the defensive front will be the strength of the unit. Defensive end Collin Oliver is back after leading the team with 10.5 sacks and he will be joined by Brock Martin and Tyler Lacy who combined for 12.5 sacks. After that, it starts to get a little dicey. Linebacker and leading tackler Malcolm Rodriguez was drafted by the Lions and while there is some depth, someone has to step up in the middle. Another big loss is safety Tanner McCalister but Jason Taylor II can step in as the leader of the secondary that can have success again as long as the Cowboys can sustain that pass rush.
2022 Season Outlook
The defense carried the Cowboys last season and despite two great efforts against Iowa St. and Baylor in losing efforts where they allowed 22.5 ppg and 308.0 ypg, the offense could not pick up the slack as it managed only 37 points total. This season it will be up to the offense to carry the load at least early on until defensive coordinator Derek Mason gets his system and players in place. In what may be considered a down year in the conference, Oklahoma St. has the pieces to make a run. A 3-0 start helps as the Big 12 opener is a big one at Baylor and that could be a make or break game. The remainder of the schedule favors the Cowboys as the majority of the tough games are at home with the exception of a road game at Oklahoma in late November. The O/U win total is set at 8.5 and that seems just about right as an early look sees eight likely wins with the three big ones being the difference.