2022 New Mexico St. Aggies Preview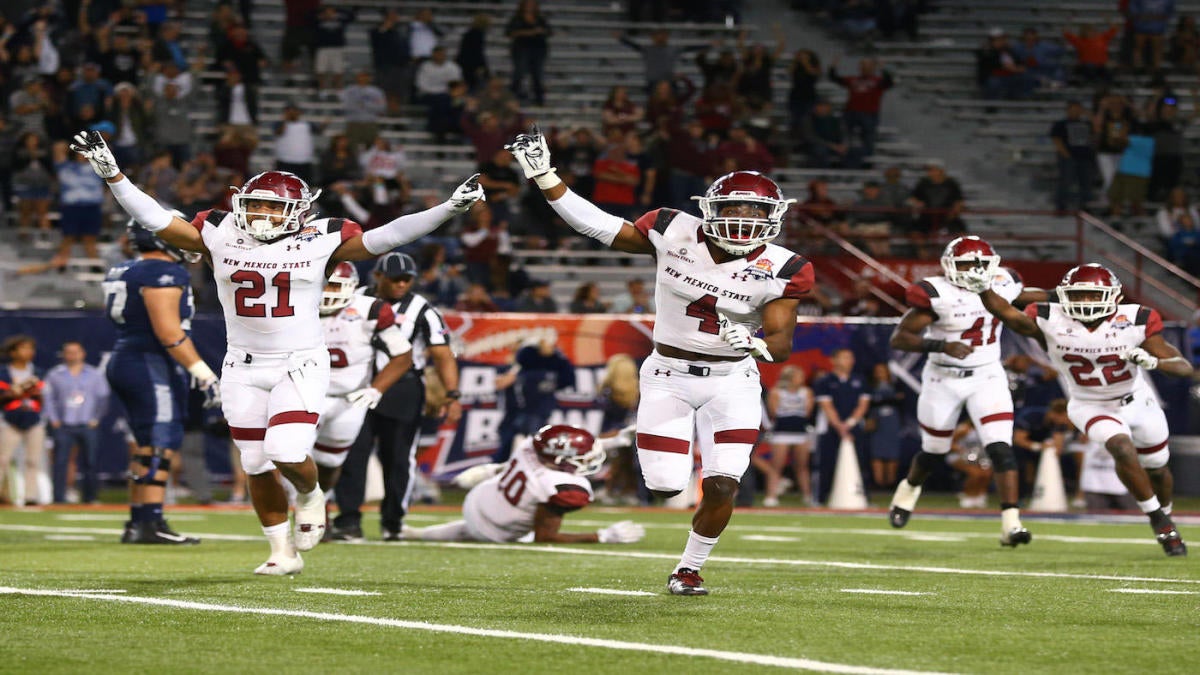 New Mexico St. Aggies
2021-22 Season Record 2-10 (N/A) - 7-5-0 ATS - 7-5-0 O/U
Returning Starters
Offense - 3
Defense - 9
Overview
While some teams such as Massachusetts and Connecticut are in the running for the worst football programs in the country, New Mexico St. takes the cake if looking more long term. There was a winning season in 2017 in the Aggies final season in the Sun Belt Conference where it went 7-6 and since 2003, they have gone a staggering 54-157 and that 2017 Arizona Bowl has been their only one since 1960. They have not been able to find a home as they have been an Independent twice, including currently, to go along with a couple stints in the SBC and an eight-year run in the WAC. The good news is, great news actually, is that Jerry Kill is on the sidelines once again after numerous health problems took him from coaching for a few years after being at Minnesota but came back as an interim coach at TCU last year. The hope is a great pedigree will bring some sort of turnaround.
Offense
The offense has remained relatively ineffective over the last few years and last season, New Mexico St. finished No. 90 in total offense and No. 104 in scoring offense and those are boosted from a huge performance against Massachusetts in the season finale. The Aggies are pretty much starting over here and that is not a bad thing as they have only three starters back which is part of the No. 129 ranked returning production offense. Kill is in place to turn around a running game that averaged 100.4 ypg, which was No. 104 in the country, and having lost its leading rusher, the Aggies turn to a pair of transplants to get it going. The offensive line is the most experienced group where those three starters return so this is a good building block. Quarterback is up in the air with a few players vying for the starting job who will be throwing to basically a brand new receiving corps.
Defense
If you can call it a strength, the defense should be just that this season with nine starters back and a returning production ranking of No. 32. Last season was a disaster as the Aggies were No. 126 in total defense and No. 128 in scoring defense but the experience should pay off with some major improvements showing. The linebackers are in great shape as Trevor Brohard and Chris Ojoh, who combined for 144 tackles, eight sacks and four forced fumbles, are back in the middle to shore up a bad rushing defense and improve the pass rush around them that was No. 112 in the nation with 18 sacks. Donovan King was second in sacks with 2.5 and he will anchor a defensive line that is big and experienced. The passing defense was second to last in efficiency but should be much better with a pair of excellent returning corners and safety help coming through the transfer portal.
2022 Season Outlook
Of all the new 2022 coaching hires, Kill has to be near the top of the list. He succeeded at Northern Illinois and had Minnesota going in a positive direction before seizure problems forced him to take time off but he came back as an assistant at Rutgers, Virginia Tech and TCU and now looks to give the Aggies a positive push. This team will be better across the board but how that turns into wins is still to be determined. The early portion of the schedule could not be much worse for a young team trying to find an identity as they open with five games against bowl teams from last season but there is a stretch of four straight home games in September/October and then dates with Lamar and Massachusetts late in the season. The O/U win total is set at 3 and the arrival of Kill is good for at least one upset but it is hard to back the over with a lot of unknowns still.