Inside the Boxscores Week 2 (Part 2)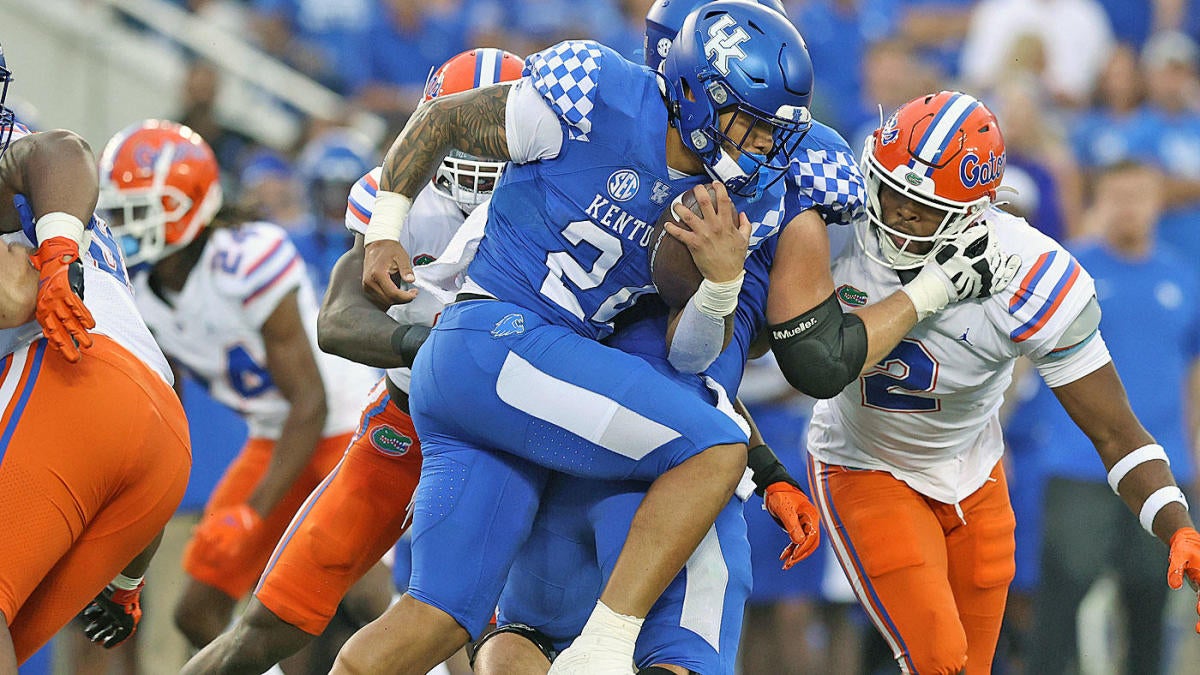 Inside the Boxscores is a weekly feature from Matt Fargo that has been widely recognized as one of the best summations in college football. He takes an in-depth look at each game and pulls out the most pertinent information that will help you handicap games in the future. College football is filled with quirky plays, misleading scores and surprise endings. Fargo takes you inside the action.

Texas Tech 33, Houston 30
Texas Tech dominated the first half with its defense as it took a 17-3 lead into halftime. The offense had three scoring drives of 65 or more yards but the other four first half possessions resulted in three punts that totaled 23 yards of offense and a missed field goal. Houston could get nothing going in the first half as it crossed midfield only three times and managed just one field goal. The Red Raiders were sloppy in the second half with three interceptions, one returned for a touchdown, and they needed a last second field goal to force overtime. Texas Tech outgained Houston 468-354 but it was deceiving as it ran 35 more plays which resulted in a 5.2 to 4.5 yards per play disadvantage.
Middle Tennessee St. 34, Colorado St. 19
Middle Tennessee St. bounced back with a big road win as it dominated from the start, jumping out to a 34-0 lead before Colorado St. made it look more respectable. The Blue Raiders returned an interception 32 yards for a touchdown on the first play of the game and the offense did its part after that, scoring on five of its first eight possessions with another 10 points coming off turnovers by the Rams. The defense was the real story as Middle Tennessee St. allowed 57 total yards in the first nine Colorado St. possessions, forcing three turnovers and six punts. The Blue Raiders outgained the Rams 380-246 including giving up -10 yards rushing 34 attempts (-0.3 ypc) in part due to having nine sacks for 70 yards.
Illinois 24, Virginia 3
It was not a good start for Illinois as it turned the ball over twice in its first six offensive plays but allowed just a field goal despite Virginia starting both drives in Illini territory. Illinois was then forced to punt in its next two possessions before the offense got on track, scoring touchdowns on its next two possessions on drives of 57 and 69 yards. The Illini had a chance to add more but fumbled at the goal line following a 96-yard drive and the offense stalled the rest of the way. The defense did the job going forward to make up for it and overall, the Illini outgained the Cavaliers 394-222 but was far from efficient with four turnovers and 10 penalties but did not allow a third down conversion (0-15).
Incarnate Word 55, Nevada 41
It was bound to catch up for Nevada as it won its first two games thanks to a +9 turnover margin but it was even in this game and got lit up by FCS Incarnate Word. It did start in their favor as the Wolf Pack recovered a fumble on the second play of the game which led to a field goal and then intercepted a pass on the next play which led to a touchdown for a 10-0 lead. Nevada eventually built a 17-3 lead but Incarnate Word scored 35 unanswered points on four touchdown drives of 75, 82 65 and 56 yards while returning a fumble 59 yards for the other score. The Cardinals outgained Nevada 616-478 despite running 24 fewer plays as they had a 8.9 to 5.1 yard per play advantage but committed 19 penalties for 145 yards.
Holy Cross 37, Buffalo 31
Buffalo jumped out to a 14-0 lead and eventually made it 21-7 before Holy Cross tied the game at 21 and then again at 28 before taking its first lead of the game 31-28 midway through the fourth quarter. Buffalo tied the game on a field goal with 31 seconds left but the Crusaders drove past midfield and won the game on a 46-yard Hail Mary touchdown pass as time expired. The offenses ruled the day as the first eight touchdown drives were all 62 yards or more and it was a clean game with no turnovers although Buffalo did commit 10 penalties for 91 yards. The stats were nearly identical as the Bulls outgained Holy Cross 464-457 on two fewer plays while having two more first downs.
Liberty 21, UAB 14
After forcing a three and out to open the game, UAB fumbled on its first offensive play but no damage was done. The Blazers punted on their next possession and fumbled again on the next drive but Liberty missed a field goal and UAB took advantage by going 80 yards in four plays to take a 7-0 lead. The Flames tied the game early in the second quarter which ended the scoring for both teams before the half. Liberty added a pair of touchdowns and was ready to put the game away but fumbled on its own 20-yard line and UAB punched it in but the Blazers never got the ball back as Liberty was able to run out the clock. The Flames outgained UAB 390-355 and benefitted from four fumbles.
East Carolina 39, Old Dominion 21
East Carolina went 70 yards on its opening possession but had to settle for a 22-yard field goal and after forcing a three and out, went 62 yards on the next possession to take a 9-0 lead. Old Dominion countered with a 75-yard touchdown drive and the Pirates were able to extend the lead to 16-7 at halftime thanks to a 13-play, 90-yard touchdown drive. The Monarchs got to within two points again after their first second half possession and then East Carolina took over with four scores on its next five possessions. The Pirates outgained Old Dominion 531-290, had a 30-12 first down edge and had the ball for nearly 22 more minutes. The Monarchs rushed for just 15 yards on 14 carries (1.1 ypc).
Kansas 55, West Virginia 42
The Mountaineers jumped ahead 14-0 and they scored a touchdown on their first four possessions to take another two-touchdown lead 28-14 before Kansas roared back. The Jayhawks scored a touchdown on three of their next four possessions to take a seven-point lead which eventually went to 11 points but West Virginia kicked a field goal and then tied the game with 35 seconds left to force overtime. Kansas scored on its overtime possession and then returned an interception 86 yards for the final margin. The Mountaineers outgained Kansas 511-419 but did run 12 more plays. The Jayhawks were efficient in the passing game and rushed for 200 yards on 36 carries (5.6 ypc) while going 11-15 on third down.
Tulsa 38, Northern Illinois 35
Tulsa took the opening kickoff and went 75-yards to take a 7-0 lead and eventually went ahead 17-0. Northern Illinois missed a field goal on its first possession and then after three straight punts, grabbed an interception which led to a touchdown but the Golden Hurricane went 69 yards in four plays to take a 24-7 lead into the break. The Huskies made the halftime adjustments and scored a touchdown on all three third quarter possessions and after trading touchdowns, Tulsa scored the game winner with 56 seconds left and intercepted a pass four plays later to seal the win. Tulsa outgained the Huskies 429-385 thanks to a potent passing attack that gained 322 yards on a 16.9 yards per completion average.
Louisiana 49, Eastern Michigan 21
The Eagles went 75 yards on their opening possession to grab a 7-0 lead and after punting on its next three possessions, they went 88 yards on 11 plays to take a 14-0 halftime lead. Louisiana had nothing going on offense, punting on its first four possessions and it had just 95 total yards when it began its second possession of the third quarter and then went off, scoring touchdowns on their next seven possessions. Eastern Michigan did have the lead 21-14 but 35 unanswered Cajuns points made it a runaway. The Eagles had five second half turnovers that led to 28 points and Louisiana outgained Eastern Michigan 459-361 as it held the Eagles to 41 yards rushing on 23 carries (1.8 ypc).
Kentucky 26, Florida 16
The Florida defense started strong as it forced Kentucky to punt on its first three possessions but the Gators only had a 3-0 lead before Kentucky finally scored by going 67 yards in two plays to take a 7-3 lead. Florida followed that up with another field goal then had an interception that led to a 34-yard touchdown drive and tacked on a safety to take a 16-13 lead at the half. The offense completely imploded in the second half as the Gators punted twice, threw an interception and turned it over on downs twice as they got outscored 13-0. Florida outgained Kentucky 279-272 yet managed only 12 first downs and allowed only 70 yards rushing on 38 carries (1.8 ypc) but gave up 15.5 yards per completion.
Oklahoma 33, Kent St. 3
Oklahoma did not dominate like it was expected to as it started the game with four straight punts and Kent St. was able to take a 3-0 lead early in the second quarter before the Sooners finally got the offense going with a 76-yard drive capped by a 36-yard touchdown pass with 18 seconds left in the first half. Oklahoma scored on its first four second half possessions to put the game away but they struggled again late with only 31 total yards in the fourth quarter on four possessions. The Sooners won the yardage battle 430-295 as the Golden Flashes did do a good job keeping the ball away from Oklahoma as they had the ball for over 12 more minutes while the Sooners were just 3-12 on third down.
Texas St. 41, Florida International 12
Texas St. opened the game with a punt in its first possession and then forced Florida International to punt in its first two possessions and the Bobcats turned those into points with a field goal and a two-play, 68-yard touchdown drive. The Panthers responded with a field goal and two possessions later, Texas St. added a touchdown on another two-play drive that went 53 yards. Florida International added another field goal before halftime to make it a 14-point game. Texas St. pulled away in the fourth quarter with an interception for a touchdown capping the scoring. The Bobcats outgained the Panthers 452-313 and held them to 62 yards rushing on 22 carries (2.8 ypc) and just three rushing first downs.
Syracuse 48, Connecticut 14
Syracuse took control early as it jumped out to a 17-0 lead in the first quarter and after allowing a touchdown, the Orange put up 10 more points to take a 27-7 lead to the half. Syracuse pulled away for good in the quarter as it completed a run of seven straight scoring drives to open the game that totaled 409 yards. The Huskies two scoring drives were 154 yards combined and their other nine possessions resulted in only 48 total yards that included six possessions that were three and outs. Syracuse outgained Connecticut 470-202 and ran 31 more plays while controlling the time of possession by almost 10 more minutes. The Orange rushing game was not good though with 156 yards on 51 carries (3.1 ypc).
Toledo 55, Massachusetts 10
The Rockets opened the game with touchdowns on their first four possessions, two coming on short fields after a punt and a turnover on downs and two longer scoring drives of 64 yards to account for the other two. Massachusetts was able to close the first half with a touchdown with seven seconds remaining to make it a 28-7 score but Toledo did not let up on offense as it scored in its first two possessions on 75 and 80-yard drives. The Minutemen added a meaningless 24-yard field goal with 23 seconds left. Toledo outgained Massachusetts 411-253, posting a 6.5 to 3.6 yard per play edge and the Minutemen were held to 48 yards passing on a mere 6.9 yards per completion.
Weber St. 35, Utah St. 7
The Utah St. offense started with a pair of punts and then after allowing a field goal after the second one, the Aggies returned the ensuing kickoff for a touchdown but little did it know, that would be it. After that, Utah St. had 12 possessions that resulted in four interceptions, five punts and three turnovers on downs with half of those drives producing single-digit yardage. Weber St. had no problem with its offense that worked the majority of the day on a short field and the Wildcats scored a 33-yard touchdown on one of those interceptions. Weber St. outgained the Aggies 401-283 and it nearly doubled Utah St. in completion average at 18.4 to 9.8 and held the ball for nearly 12 more minutes.
Oklahoma St. 34, Arizona St. 17
Arizona St. opened the game with the first score on a first quarter field goal and it took awhile for Oklahoma St. to get its offense going as in its first five possessions, it punted four times and threw an interception deep in Sun Devils territory. The Cowboys took the lead midway through the second quarter as they recovered a fumble and went 37 yards for a touchdown and they closed the first half with a pair of scores to take a 17-3 lead. Arizona St. did not go away as it cut the lead to three points before a pair of Cowboys touchdowns closed it. Oklahoma St. outgained Arizona St. 465-354 but it took 23 more plays and they were on the wrong end of the yard per play averages at 5.8 to 5.5
Georgia Southern 45, Nebraska 42
It was a fast paced game in the first half as Georgia Southern and Nebraska went back and forth and ended the first 30 minutes in a 28-28 tie while combining for 689 yards of total offense on 83 plays. The second half was also back and forth but not as explosive with just 31 total points as four of the five scoring drives were 75 or more yards. The Eagles regained the lead twice before Nebraska took a 42-38 lead with 3:05 remaining but Georgia Southern went 75 yards in 11 plays to take back the lead and Nebraska missed a game tying field goal as time expired. The Eagles outgained the Huskers 642-575 and while Nebraska won the turnover battle 2-0, it was hurt by 10 penalties that awarded the Eagles four first downs.
USC 41, Stanford 28
USC scored touchdowns on its first five possessions to take a 35-14 lead into halftime. The Trojans got a pair of third quarter field goals as the offense went basic vanilla with the game in hand and the Cardinal added two late garbage touchdowns to make it a more respectable final score. Four of those first five touchdown drives were 83, 93, 75 and 98 yards as USC racked up 505 yards of offense while Stanford had 441 yards but 145 of those were on those two late touchdown drives. Both teams completed 20 passes and it was the Trojans that were much more explosive as they averaged 17.1 yards per completion while the Cardinal had an average of 11.0. Stanford ran 17 more plays despite an even time of possession.
Auburn 25, San Jose St. 16
Auburn won an ugly game as it went into halftime trailing 10-7 and the Tigers opened the second half with a 69-yard touchdown drive to take the lead it would not give back. They scored on their first three possessions of the second half to build a double-digit lead and the Spartans would not go home quiet as they added a pair of field goals to make it a one possession game but failed on the onsides kick and Auburn was able to run out the final 2:11. The Tigers only outgained San Jose St. 378-329 but did run eight fewer plays and had a 6.2 to 4.8 yards per play edge. The passing defense gave up a lot of yards but did not break and the Tigers allowed only 54 yards rushing on 29 carries (1.9 ypc).
Virginia Tech 27, Boston College 10
After an interception on the Eagles second play from scrimmage, the Hokies scored a touchdown after a seven-play, 14-yard drive. Virginia Tech punted on its next possession and then scored on the next two drives to take a 17-0 lead. Boston College closed the first half with a field goal and opened the second half with a touchdown to cut the Hokies lead to seven points but the Virginia Tech defense stepped up by allowing 18 total yards over the final four Boston College possessions. The Hokies outgained the Eagles 284-155 and had the edge in yards per play at 4.1 to 2.6 so both offenses were not in synch. Virginia Tech held Boston College to four yards rushing on 26 carries (0.2 ypc) with five sacks helping that average.
Michigan 56, Hawaii 10
The Wolverines came out strong as expected as they scored touchdowns on six of eight first half possessions while forcing Hawaii to punt on all eight of its possessions in the first 30 minutes. Michigan led 42-0 at the break while outgaining the Warriors 410-51 and it let up the rest of the way with the game in hand. The Wolverines outgained Hawaii 588-253 and the Warriors yards were obviously skewed by going against the non-starters for most of the second half. Michigan faced only six third downs, converting two, and it averaged a whopping 10.7 yards per play by running only 55 plays while the defense allowed 7.0 fewer yards per play. There were only four penalties combined the entire game.
UTEP 20, New Mexico St. 13
UTEP took its opening possession 63 yards in 17 plays to set up a field goal and then each team drove deep into the opponents territory on their next possessions but turned it over, New Mexico St. with an interception and UTEP with a fumble. The Miners got back on the scoreboard in the second quarter with a pair of touchdowns just over a minute apart as they went 65 yards for a score and then recovered a fumble and scored again a play later to take a 17-0 lead into halftime. The Aggies cut the lead to 20-13 late in the fourth quarter and got the ball back but fumbled at the UTEP 14-yard line. The Aggies outgained UTEP 298-261 but all three turnovers proved costly.
BYU 26, Baylor 20
The Cougars jumped ahead early as it went 65 yards and had to settle for a 27-yard field goal. The defense did its job as it forced four punts on the first four Baylor possessions but its own offense mirrored that by punting on its next four possessions and the Bears scored the first touchdown late in the second quarter to take a 6-3 but the Cougars went 75 yard in eight plays to regain the lead. There were two more lead changes before the game was tied at 20 and BYU missed a field goal to win the game. The Cougars scored in the second overtime to win after a fourth down stop. BYU won the yardage battle 366-289 as penalties hurt both offenses, 14-117 for Baylor and 9-74 for BYU.
Oregon St. 35, Fresno St. 32
Oregon St. struck first on a 13-play, 47-yard drive to take a 7-0 lead and after Fresno St. tied the game on it next possession, the Beavers scored it second touchdown midway through the second quarter. The Bulldogs then scored on their next four possessions, two field goals to end the first half and 10 points to open the second half to take a nine-point lead and Oregon St. eventually retook the lead with 1:50 left in the game before the Bulldogs thought they won the game with a go ahead touchdown with 1:05 left but Oregon St. went 75 yards in five plays and scored the game winner as time ran out. Fresno St. won the yardage battle 492-397 but ran 11 more plays and had just a 0.4 yards per play edge.
Mississippi St. 39, Arizona 17
Arizona got on the scoreboard first as it went 75 yards in six plays to take a 7-0 lead but Mississippi St. scored 15 straight points and took an 18-10 lead into halftime. The Bulldogs opened the second half with a touchdown drive of 75 yards to go up by 15 points and then grabbed an interception but fumbled on their first play which led to a four-yard touchdown drive for Arizona. Mississippi put up the final two touchdowns to pull away. The Bulldogs outgained Arizona 426-316 and the run defense was stout as they allowed just 40 yards on 22 carries (1.8 ypc). Both teams committed three turnovers with Mississippi converting their into 14 points and Arizona converting theirs into 10 points.