2022 Air Force Falcons Preview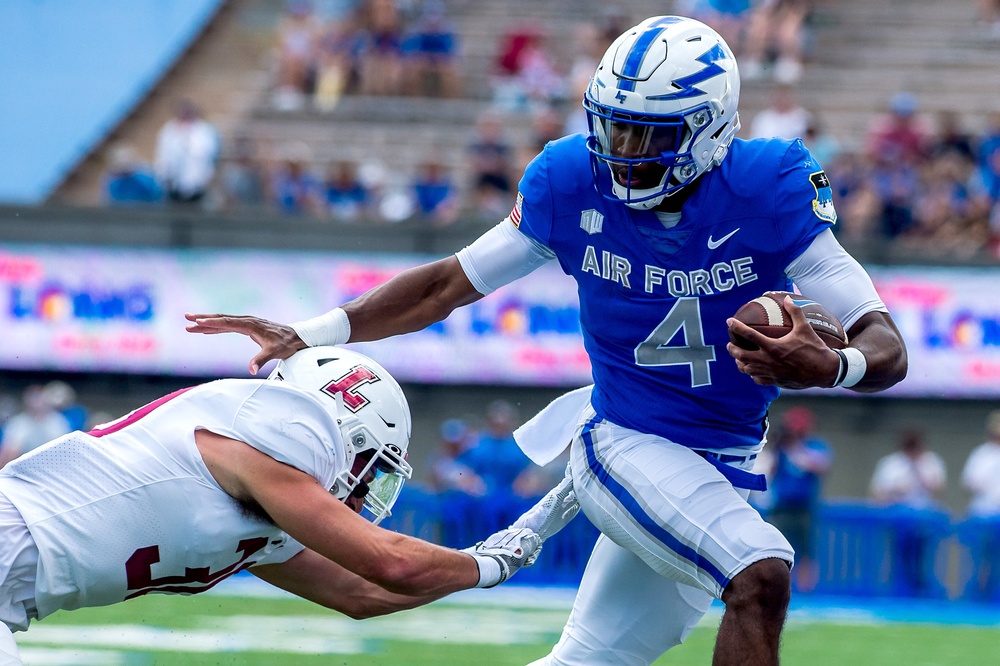 Air Force Falcons
2021-22 Season Record 10-3 (6-2 MWC) - 8-4-0 ATS - 5-7-0 O/U
Returning Starters
Offense - 6
Defense - 5
Overview
It was a very successful season for Air Force and it finished tied for first in the Mountain West Conference Mountain Division and advanced to the First Responder Bowl where it defeated Louisville. The Falcons finished first in the nation in rushing with 341.6 ypg which has been the strength for years and will be once again. While the season was a success, it could have been even better as all three losses were by one possession while seven wins were by double-digits. Head coach Troy Calhoun is in his 15th season and 10 of his first 14 seasons have resulted in a winning record with one of the other four being the COVID-shortened season in 2020 where the Falcons went 3-3. The schedule this season is in their favor with seven home games and only two real road tests at Utah St. and San Diego St. and should be 5-0 before facing the Aggies in Week Six.
Offense
The running game will again be the focal point of the offense and there is plenty coming back. Quarterback Hazziq Daniels is back after finishing second on the team in rushing and while the passing game was limited as he completed only 45.7 percent of his passes, he led the country with 22.6 yards per completion. His top receiver is gone but that does not affect this team like it would most others so there will not be a downgrade there. Leading rusher Brad Roberts returns and there is a decent amount of depth behind him. The offensive line has three starters back with all five up front having solid experience but avoiding injuries will be big as the depth is limited. The opponents know what they are getting but stopping it will again be a challenge for those defenses as awareness and execution are two different things. We expect the offense to hum along once again.
Defense
The defense has five starters back from a unit that was very underrated last season as Air Force finished No. 5 in the country in total yards allowed at 287.4 ypg and No. 13 in scoring defense at 19.1 ppg. The Falcons did lose some key players on the stop unit however as all three levels have to replace a top defender. The core is back on those levels so there should not be a big drop off and they have the advantage of having an offense that kills the time of possession so taking the field fresh helps this defense in a big way. The defense was on the field for just over 23 minutes per game last season and anything close to that this year will let the defense do its thing again. The Falcons were susceptible to the pass and the secondary will not be much stronger but it did enough to limit big plays and that will be enormous again. As is always the case, discipline will determine the success.
2022 Season Outlook
Last season could have been really special if those close losses turned into victories and a reversal of that tends to take place going forward but Air Force likely will not be blowing as many teams out like it did in 2021. The schedule as mentioned is not a bad one with a pair of tough road games but as is the case every season, the Boise St. game will play a big role in the outcome and getting the Broncos at home is important. While calling last season an aberration might be a bit harsh, the likelihood of a repeat will be tough against an improved conference so the other six home games, which they will be favored in all, have to be taken care of to have a shot at taking out the Broncos in the Mountain Division. Another double-digit win season is possible but staying healthy will be crucial as depth is the true weakness of the Falcons across the board. The win total is set at 8.5 which seems right where it should be as an eight or nine win season looks right.