2022 Georgia Southern Eagles Preview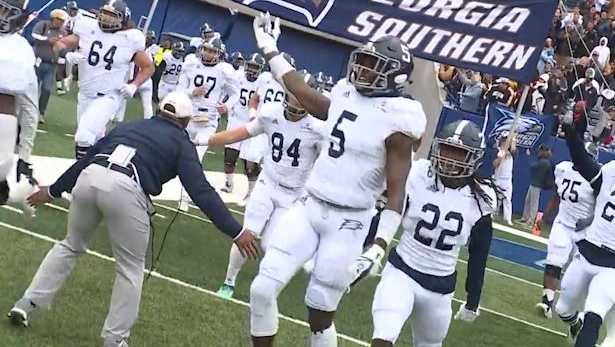 Georgia Southern Eagles
2021-22 Season Record 3-9 (2-6 SBC East) - 6-6-0 ATS - 5-7-0 O/U
Returning Starters
Offense - 8
Defense - 6
Overview
Georgia Southern made noise in its first season as an FBS team as it went 9-3 including an 8-0 record in the Sun Belt under head coach Willie Fritz and he followed that up with a 9-4 record in 2015 and then he bolted to Tulane. Tyson Summers did not last two seasons before getting the hook and Chad Lunsford then put together three winning seasons before getting the early pink slip last season. This shows the coaching carousel for the Eagles as they have not had a chance to gain any continuity so now it is up to Clay Helton to make his mark. Despite 17 starters back in 2021, Georgia Southern fell flat with a 3-9 record and had just its second losing season in the conference but it looks to be in prime shape for another winning run with a very experienced team that is ranked No. 6 in returning production. It will be back to basics to get its powerful rushing attack running downhill again.
Offense
Georgia Southern averaged at least 222 yards rushing in its first seven seasons of existence but put up only 194.9 ypg and we will see a more balanced attack that will actually help the running game. Eight starters are back and they get a boost at quarterback with Kyle Vantrease transferring in from Buffalo after throwing for 1,861 yards in split time. He can have immediate success in this spread attack as he has been around the block for five seasons and will have a plethora of receivers to throw to that are experienced and fast. Their leading rusher is gone but backups Gerald Green and Jalen White ran for a combined 806 yards and nine touchdowns so there is not a significant drop off plus Vantrease can run. Georgia Southern has always relied on a powerful offensive line and while that fell off last season, it is in good shape with four returning starters that will get more of a push.
Defense
Defense has been a strength throughout the years but last season was a disaster as the Eagles allowed 441.7 ypg which was No. 109 in the country as teams were able to throw all over the place. The one strength was they limited opponents to 152.4 ypg on the ground which is not great but it is a starting point and the defensive line brings back a ton of experience to get a greater push. Georgia Southern finished with 26 sacks which was No. 69 in the nation and coupled with a linebacking corps that gained a lot of playing time, the front seven can cause some havoc. The Eagles lost a pair of linebackers to the transfer portal but there is plenty in place to make that up. The secondary will be tested after last season but they will be a lot better with three starters back, led by safety Anthony Wilson who was the team leader in tackles, and corner Derrick Canteen who is back to full health.
2022 Season Outlook
Helton inherits a good situation so there should be a quick turnaround and while getting a big name coach at a small school is ideal, the longer the success, the quicker a bigger job comes along. But it is about the present and the staff and roster are in place for the Eagles to make a run at the SBC Championship and getting back to a bowl game after missing out on the postseason for the first time since 2017. The Eagles open with Morgan St. before a couple testers at Nebraska and UAB before closing the nonconference season at home against Ball St. The conference slate is a bear with six of eight games against teams that had winning records last season although two of those are newcomers James Madison and Marshall. The O/U win total is 4.5 and we can see this one going over with five winnable home games and a couple really good chances on the road.