2022 UCF Knights Preview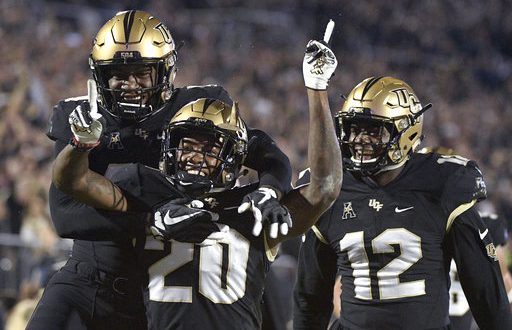 UCF Knights
2021-22 Season Record 9-4 (5-3 American) - 5-8-0 ATS - 8-5-0 O/U
Returning Starters
Offense - 9
Defense - 8
Overview
UCF has had an abundance of success over the years since entering the FBS ranks in 1996 and the program really took off when legendary head coach George O'Leary came onto the scene in 2004. He led the Knights to seven winning records in his 12 seasons which ironically opened with a 0-11 record in his first year and closed with a 0-12 record in his final year. Scott Frost took over for two years and put together that magical 13-0 season in 2017 amid controversy where UCF did not get a chance to play for a National Championship and since then, Josh Heupel and current head coach Gus Malzahn have continued the success. Malzahn went 9-4 in his first season last year, all four losses on the road, as the Knights had 17 starters back which is the same amount they have heading into 2022 and they have a schedule that sets up very well for what could be another one of those magical seasons.
Offense
The success of the past was behind a potent offense that was among the best in the country but that changed last season. The Knights averaged 400.2 ypg which was down close to 169 ypg from 2020 while the scoring was down by a double-digit average. Overall, UCF finished No. 69 in total offense and No. 38 in scoring offense, although the latter was buoyed by defensive points along the way. Quarterback Dillon Gabriel only played three games last season which definitely put a kink into the offense but Mikey Keene took over and performed well under the circumstances as he threw for 1,730 yards with 17 touchdowns and six interceptions and last year was a springboard. His leading receiver is back but depth is an issue, the running game is set with Johnny Richardson and Isaiah Bowser forming a great 1-2 punch and the offensive line will be stout once again.
Defense
The lack of a consistent offense would normally have been a major issue but the defense stepped up and carried the team. The stop unit improved by 124 ypg and eight ppg and finished No. 54 overall and No. 55 in scoring, certainly nothing special but it was enough for a successful season. Eight starters are back and there should be even greater improvements. Two of the three top tacklers are gone and both were linebackers so this unit will need some work early on and the transfer portal is expected to help as they work around Jeremiah Jean-Baptiste who had 51 tackles, a sack and an interception last season. The defensive line also loses some players, namely Big Kat Bryant who led the team with six sacks and contributed 47 tackles. The secondary will be the early strength with everyone returning led by safety Quadric Bullard who had 83 tackles and a trio of playmaking corners.
2022 Season Outlook
The situation is pretty simple in Orlando. Keep the defense as strong as it was, and it should be even better, and get the offense close to where it used to be, which is very possible, and this can be one dangerous team ready to dominate before heading to the Big 12 next season. That will be a big jump but this team is more than capable yet 2022 is on the mindset. The nonconference schedule consists of three home games, including Louisville and Georgia Tech, and a road game at Florida Atlantic so going 4-0 is a definite possibility. As for the American slate, the two tough road games are at East Carolina and Memphis with the home portion containing Cincinnati and SMU and the Knights miss Houston. The O/U win total is set at 8.5 and this is a very gettable number as all it should take is a pair of wins in those four aforementioned conference games which is doable.