2022 Arizona Wildcats Preview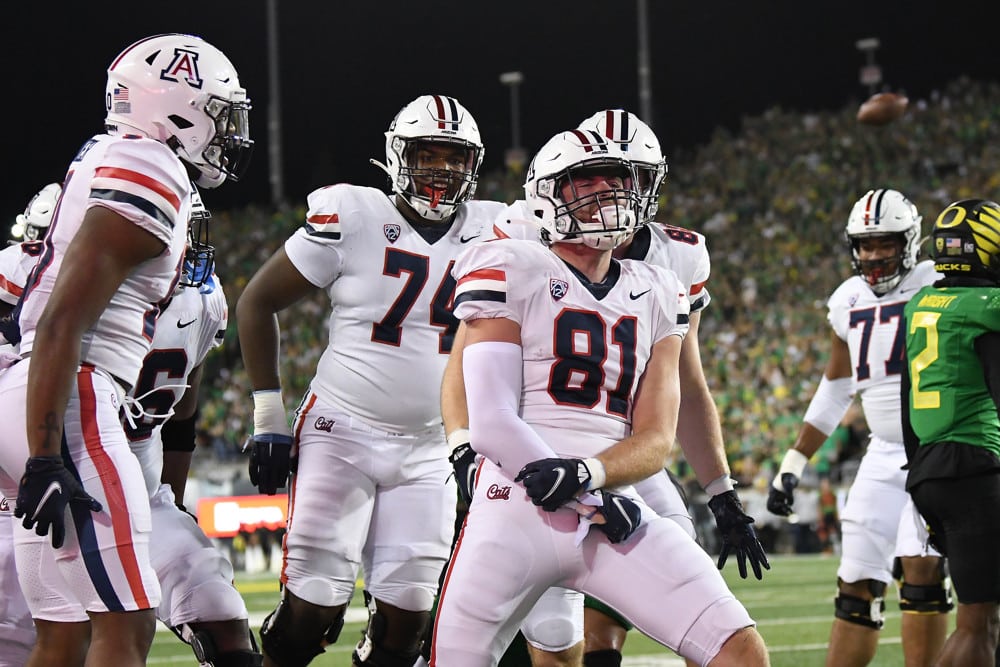 Arizona Wildcats
2021-22 Season Record 1-11 (1-8 Pac 12 South) - 6-6-0 ATS - 5-6-1 O/U
Returning Starters
Offense - 6
Defense - 8
Overview
It has been an ugly stretch for Arizona football as it has had four straight losing seasons with former head coach Kevin Sumlin running this program into the ground with a 9-20 record. He left nothing for Jedd Fisch who finished 1-11 in his inaugural season with the lone win coming against a COVID depleted California team in a 10-3 victory. While there were some ugly losses, five of the 11 defeats were by one possession so the Wildcats had the possibility of a below average season as opposed to the worst non-COVID season in program history. Arizona will surpass that win total this season but by how much is the question and the Wildcats brought in a very solid recruiting class and some transfers that will play right away but how the chemistry comes together will be the difference. Arizona is the biggest longshot to win the Pac 12 so making a bowl game is unlikely but there will be improvement.
Offense
Arizona was putrid on offense last season as it was ranked No. 101 in total offense and No. 124 in scoring offense as it scored more than 20 points only two times. The biggest issue was the offensive line as the Wildcats could not establish a running game and were not able to protect the quarterback. There are new bodies that should improve this unit and one factor contributing to this could be the style of play. Quarterback Jayden de Laura transferred over from Washington St. and has the ability to sling it downfield and getting the ball out quick which will decrease the sacks. He has a transfer weapon with wide receiver Jacob Cowing who shined at UTEP with 1,330 yards last season and 2,571 in three years with the Miners. Michael Wiley takes over at running back after a meager 302 yards on 3.3 ypc so maybe an improved line can get him going at a higher level.
Defense
The defense was a lot better than the offense and it was a vast improvement from the previous season, albeit a small sample size of a COVID shortened season, and from 2019 as well. The unit gave up 400 yards or more in only five of 12 games after allowing that many yards in 16 of 17 games in the two prior years. Eight starters are back to build upon the improved success from last season and it starts with the secondary that brings back both corners, possesses one of the better safeties in the conference in Christian Young along with a key transfer to play the nickel. The pass rush was the big issue as Arizona was ranked No. 92 with only 1.8 sacks per game so stepping up there will only help the secondary more. Nose tackle Kyon Barrs is legit and can stop the run but he needs that push up front in pass situations with the linebackers helping out. Expect improvement again.
2022 Season Outlook
Despite one victory, the Wildcats covered half of their games which shows they were competitive to an extent against the public perception. This season, the personnel needs to take another step forward but intangibles are just as key as the Wildcats need to do better than allowing 37 scores in 38 redzone opportunities and they need to have more than one takeaway in a seven-game stretch like it did in the final seven games last season. The schedule is doable as anything can happen in the Pac 12 and Utah, USC and Oregon are the only big threats and they get the latter two at home. The non-conference schedule is tough but they open conference play against two other bottom feeders in Colorado and California. The O/U win total is set at 2.5 -125 and this could be a great over spot as the betting public will likely not be backing a one-win team from a season ago.