Inside the Boxscores Week 3 (Part 1)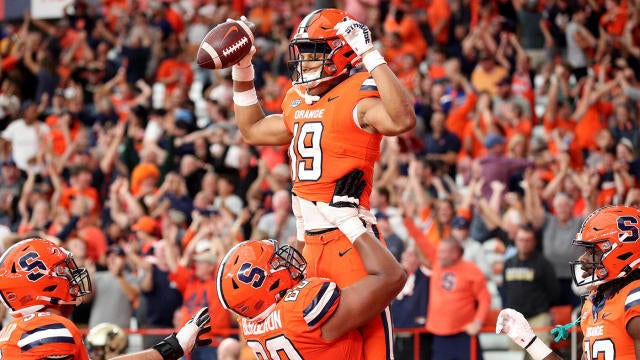 Inside the Boxscores is a weekly feature from Matt Fargo that has been widely recognized as one of the best summations in college football. He takes an in-depth look at each game and pulls out the most pertinent information that will help you handicap games in the future. College football is filled with quirky plays, misleading scores and surprise endings. Fargo takes you inside the action.
Florida St. 35, Louisville 31
Florida St. made a quarterback change after an injury to Jordan Travis in the second quarter and after a slow start Tate Rodemaker was clutch late. He managed just 12 yards of offense in two series and threw an interception in the first half but in the second half, he led them on three touchdown drives of 75 yards. The Seminoles opened the scoring after forcing a punt and going 61 yards for a touchdown and after spotting Louisville a pair of touchdowns, the Seminoles tied the game and eventually fell down another touchdown at halftime. The defense came on strong in the second half also as Florida St. held Louisville to 10 points and just 1-6 on third down. Louisville outgained Florida St. 495-455 but ran 14 more plays.
Wyoming 17, Air Force 14
Wyoming pulled off the upset as it was able to keep the Air Force rushing game in check. The Falcons entered the game ranked No. 1 in rushing offense with 508.5 ypg but were held to just 171 yards on 40 carries (4.3 ypc). Overall, the Cowboys outgained Air Force 342-272 and they were at their best in the first half as they held to Falcons to only 87 total yards while putting up 183 yards of offense to take a 10-0 lead. Air Force took the second half opening kickoff and drove 75 yards to pull to within three points and after forcing a punt, took the lead following an 80-yard touchdown drive. The Cowboys took the ensuing kickoff and went 75 yards for the game-winning score. Air Force had 0 penalties while Wyoming had only 3.
Michigan 59, Connecticut 0
Michigan dominated throughout the entire game as it outgained the Huskies 465-110 and it scored its first touchdown after only two minutes and never looked back. The Wolverines scored on nine of their first 12 possessions as they were forced to punt only twice while also missing a field goal. Connecticut did not cross midfield until late in the second quarter as it got to the Michigan 43-yard line but turned it over on downs and it never got into Wolverines territory again the rest of the game. Michigan had 26 first downs compared to only 6 for the Huskies and won the yards per play average 6.7 to 2.1 thanks mostly to an efficient passing game where they were 21-26 and averaged 13.0 yards per completion.
Cincinnati 38, Miami Ohio 17
Miami Ohio took the opening kickoff and went 75 yards to take a 7-0 lead and then the defense forced a fumble which set up a short field that resulted in a field goal. Cincinnati cut it to three points following an 80-yard touchdown drive but Miami was able to force another fumble and recovered it at the Bearcats 20-yard line to set up a three-play touchdown drive. Cincinnati scored on three of its next four possessions to take a lead into halftime as the defense continued its strong play. Miami did not score the rest of the way as it had only 83 total yards in its final nine possessions and was outgained 478-183. The RedHawks did not convert a third down until the fourth quarter and went 1-11 overall.
Baylor 42, Texas St. 7
The Bears went down the field 75 yards on the first possession of the game to take a 7-0 lead and then after Texas St. went down to the Baylor 31-yardline, the Bears came up with a fourth down stop and went 69 yards to take a two-touchdown lead. The Bobcats were again stuffed on fourth down, this time at the Baylor four-yard line but did string together a 54-yard, five-play drive to cut it to 14-7 but the Bears took over for good. Texas St. had just 116 total yards over its final eight possessions while the Baylor offense scored in four of its last eight possessions but committed three turnovers as well. The Bears outgained Texas St. 501-268 including 293 (7.9 ypc) to 82 (2.4 ypc) on the ground.
Oklahoma 49, Nebraska 14
The post Scott Frost era got off to a good start early for Nebraska as it forced a three-and-out to open the game and went 77 yards in six plays to take a 7-0 lead but the Sooners took the ensuing kickoff 75 yards in five plays to tie the game. That was the first of seven unanswered touchdowns for Oklahoma before the Huskers scored a garbage touchdown late. Both teams were balanced on offense but the Sooners were more explosive in both facets as they outgained Nebraska 580-327 and won the yard per play average 6.9 to 4.3. Oklahoma rushed for 312 yards on 54 carries (5.8 ypc) while holding the Huskers to 163 yards on 45 carries (3.6 ypc) and the defense held Nebraska to 6-19 on third and fourth down.
Georgia 48, South Carolina 7
South Carolina was forced to punt on its first possession and Georgia went 82 yards in 10 plays to take a 7-0 lead and the rout was on. The Bulldogs scored in eight of its first nine possessions as they were forced to punt midway through the second quarter and punted only twice the entire game. Georgia outgained the Gamecocks 547-306 while having an 8.4 to 4.8 yards per play advantage. South Carolina entered Bulldogs territory four times in its first 10 possessions but threw two interceptions, punted once and turned it over on downs in the other one. The Gamecocks only score came with 53 seconds left in the game as over 35 percent of their total offense came in garbage time in the fourth quarter.
Indiana 33, Western Kentucky 30
Indiana opened the scoring with a field goal and eventually took a 10-7 lead but Western Kentucky went ahead early in the second quarter and took a 17-10 lead into halftime. The Hoosiers had to play catchup the rest of the way as they never led until the final gun. Down 30-22 with 3:46 left in regulation, Indiana went 75 yards in seven plays and scored with 47 second left while tacking on the two-point conversion to send the game into overtime where the Hoosiers blocked a field goal and made the winning kick from 51 yards four plays later. The Hilltoppers outgained Indiana 545-484 but had two costly turnovers, one deep in Indiana territory and one deep in their own territory that led to 10 Hoosiers points.
Syracuse 32, Purdue 29
A defensive battle flipped in the fourth quarter as after there were 12 points combined in the first half, Syracuse and Purdue combined for 42 points in the final 15 minutes. The Boilermakers took a six-point lead into halftime as they held the Syracuse offense to just 134 total yards and a field goal in the first half. There were five lead changes in the second half and the Orange looked to have to themselves in position to win the game following an interception return for a touchdown for a 25-15 lead with just over eight minutes left in the game but Purdue put together two touchdown drives to take the lead before Syracuse won the game with seven seconds left. Purdue outgained Syracuse 485-306 and went 10-17 on third down.
Coastal Carolina 38, Buffalo 26
Buffalo recovered a fumble on the first play of the game but had to settle for a 36-yard field goal. The Bulls forced another fumble four plays later but they fumbled it right back after three plays and Coastal Carolina went 43 yards in four plays to take a 7-3 lead. Buffalo was able to get into Chanticleers territory in its next three possessions but had to settle for two field goals and after giving the lead back again, the Bulls went 80 yards right before the half to take a two-point lead into the break. Coastal Carolina retook the lead for a good on a fumble recovery for a touchdown as it outscored Buffalo 21-7 in the fourth quarter. The Chanticleers outgained the Bulls 504-337 including 221-59 on the ground (7.9 ypc to 1.3 ypc).
UCLA 32, South Alabama 31
UCLA survived a home scare as it won by a point on a field goal as time expired. The Bruins picked off a pass four plays into the game but had to settle for a field goal and despite 129 yards in its first three possessions, UCLA managed only two field goals and eventually fell behind 17-6. A late first half touchdown and an early second half touchdown gave the Bruins a 23-17 lead but the Jaguars countered with a pair of touchdowns to regain the lead. They had a chance to extend the lead but did not convert a fake field goal and the Bruins went 61 yards in 10 plays for the game-winning score. UCLA outgained the Jaguars 407-399 as it ran only three more plays and had just one more first down.
Rutgers 16, Temple 14
After both teams punted on their opening possessions, Temple took its second possession 73 yards to take a 7-0 lead. Rutgers got onto the scoreboard late in the first quarter with a field goal and then took its first lead after retuning an interception 43 yards for a touchdown. The Scarlet Knights tacked on a pair of field goals to take a nine-point lead into the fourth quarter before the Owls got to within two points just two plays later after a 47-yard touchdown pass with 14:15 remaining but they got the ball back only one other time and failed on fourth down. Rutgers was outgained 264-201 and it averaged only 3.5 yards per play as the only turnover of the game proved to be the difference.
Iowa St. 43, Ohio 10
Iowa St. started the game by going 69 yards in 11 plays and scored the first 24 points of the game as it was never contested. The Cyclones eventually built a 37-3 lead as the defense held the Bobcats to a field goal, three turnovers and four punts in their first eight possessions. Iowa St. outgained Ohio 463-233 including 163 yards rushing on 32 carries (5.1 ypc) to 24 rushing yards on 22 carries (1.1 ypc). Overall, the Cyclones forced four turnovers that led to 20 points with the four drives needing only 75 total yards. Ohio was just 2-13 on third down and had only 12 first downs while getting sacked four times. The Iowa St. offense did have to settle four three field goals as it went only 5-14 on third down.
Virginia 16, Old Dominion 14
Old Dominion took its first lead of the game on an 80-yard touchdown drive with just 1:01 remaining in the game but a long kickoff return led to a 56-yard drive that set up the game-winning 26-yard field goal for Virginia as time expired. The Cavaliers jumped out to a 10-0 lead before Old Dominion forced two straight fumbles and turned the second one into a touchdown following a 64-yard drive. Virginia tacked on another field goal for a six-point lead and missed another one before the game winner. Virginia outgained the Monarchs 513-324 but managed only 16 points despite getting into Old Dominion territory nine times as they fumbled three times with 173 yards of offense lost with those.
Notre Dame 24, California 17
After a scoreless first quarter, California forced a fumble early in the second quarter and went 33 yards in four plays to take a 7-0 lead. Notre Dame returned the ensuing kickoff 40 yards and went 60 yards in in 10 plays to tie the game at 7-7 but the Golden Bears got the lead back with a field goal to take a three-point lead into the half. The Irish opened the second half with another 60-yard touchdown drive before California once again flipped the score and after a field goal, the Irish took the lead for good with 9:16 left. Notre Dame recovered a fumble and took it the distance for a possible 14-point lead but was called back. Notre Dame outgained the Golden Bears 297-296 with California having an 18-17 first down edge.
UNLV 58, North Texas 27
UNLV went 65 yards on its first possession to take a 7-0 lead but the Mean Green returned the ensuing kickoff 99 yards to knot the game at 7-7. The Rebels blocked a punt on the first North Texas offensive possession which rolled out of the endzone for a safety and after North Texas took the lead with a field goal, UNLV scored a pair of touchdowns on consecutive drives to take a 13-point lead. North Texas scored the final 10 points of the first half and then the two teams exchanged touchdowns before the Rebels took over, outscoring the Mean Green 28-0 the rest of the way. UNLV outgained North Texas 576-474 but had the ball for over 17 minutes more and ran nine more plays.
Tulane 17, Kansas St. 10
Tulane took its third possession 91 yards in nine plays to take a 7-0 lead but the Wildcats were able to take a 10-7 lead into halftime as the defense forced four punts and grabbed an interception in the other Five Green Wave possessions. The Tulane defense ruled in the second half as it shut out the Wildcats, forcing four punts and stopping Kansas St. on fourth down three times. The Green Wave had two scoring drives of 53 and 52 yards after two of those fourth down stops to score the final 10 points. Both teams had 336 total yards, Tulane had an 18-15 first down edge and both punted seven times as third down conversions were hard to come by as Tulane was 1-12 while Kansas St. was 2-15.
UAB 35, Georgia Southern 21
The Blazers scored touchdowns in three of their first four possessions but Georgia Southern would not go away lightly as it scored a late first half touchdown and added a late third quarter touchdown to cut the deficit to seven points. UAB opened the fourth quarter with a 71-yard touchdown drive but the Eagles countered with a 75-yard drive for a touchdown on their next possession. Georgia Southern then forced a three and out but threw an interception four plays into the drive in their own territory and the Blazers capped it with a 33-yard touchdown drive. The Eagles won the yardage battle 418-413 but ran 20 more plays including 30 more passes and were outgained 6.6 to 5.0 yards per play.
Appalachian St. 32, Troy 28
It was another wild game for Appalachian St. and it was a back-and-forth battle all day. The Mountaineers opened the scoring after grabbing a Troy interception on the first play of the game from scrimmage and went 33 yards in three plays to take a 7-0 lead. The Trojans came back on their next possession as they went 75 yards to tie the game and then took a touchdown lead on two different occasions and took a 21-14 lead into halftime. The Mountaineers took a three-point lead but Troy retook the lead and then took a safety in its own end zone to keep a two-point lead but Appalachian St. tossed a 53-yard Hail Mary as time expired to win the game. The Mountaineers outgained the Trojans 456-359.
Oregon 41, BYU 20
The Ducks defense opened the game with a fourth down stop at their own 36-yard line and took the ball 64 yards in four plays to take an early 7-0 lead. Trailing 10-0, BYU closed the first quarter with a 75-yard, 10-play drive and then Oregon took over. The Ducks scored touchdowns on the next four possession, adding to six scoring drives in the first six possessions of the game, to go ahead 38-7 midway through the third quarter. The Cougars added a pair of touchdowns in the final quarter to make it more respectable. Oregon only outgained BYU 439-366 but the defense made four stops on fourth down, taking away 145 yards of Cougars offense that resulted in nothing. Conversely, Oregon was 3-3 on fourth down.
Minnesota 49, Colorado 7
Minnesota closed non-conference action with a third straight blowout as the Gophers scored early and often, building a 35-0 lead at halftime that was extended to 49-0 with most of the starters coming out midway through the second half. Minnesota outgained the Buffaloes 500-226 that included a 420-90 yardage edge through the first three quarters so it was a complete domination when the starters went against each other. The Gophers passing offense was the only below average aspect of the game for them as they were only 12-20 with an interception but did have three passing touchdowns to make it a little more respectable and overall Minnesota was 13-15 on third down while Colorado was 1-12.
Penn St. 41, Auburn 12
It was a competitive game early on as Auburn got on the board first with a field goal midway through the first quarter but Penn St. responded with a 75-yard touchdown drive to take a lead it would never give up. The Tigers closed to within one point on another field goal and Penn St. responded again with another long touchdown drive to take an eight-point lead into halftime. The Nittany Lions took over in the second half as they outscored Auburn 17-0 in the third quarter and 27-6 in the entire second half, allowing a garbage touchdown in the fourth quarter. Penn St. outgained the Tigers 477-415 as it allowed 296 yards passing but the defense stepped up by forcing four turnovers and sacking Auburn six times.
Mississippi 42, Georgia Tech 0
It was not a deceiving final score as Mississippi dominated from start to finish, opening the game with a five-play, 74-yard scoring drive that only took 1:21 off the clock. The Rebels scored a rushing touchdown in six of nine possessions through three quarters to build its 42-0 lead with the only blemishes being one punt, a missed field goal and an interception, the latter two resulting in 104 yards of their 547 yards of total offense and getting nothing. The defense pitched a shutout for the first time in eight years as Mississippi allowed only 214 yards and registered seven sacks. The Rebels outgained Georgia Tech on the ground with 316 yards on 62 carries (5.1 ypc) to 53 yards on 34 carries (1.6 ypc).
Wisconsin 66, New Mexico St. 7
Wisconsin bounced back from a home loss last week as it dominated the Aggies, outgaining them 595-242 and more than double the yards per play average at 9.0 to 3.7. The Badgers allowed only 92 total yards in the first half with 82 of those coming on one drive that resulted in a missed field goal by New Mexico St. right before the half. 112 of the Aggies yards came on their final two possessions so there was nowhere to go besides those three positive drives. Wisconsin punted only three times and of its nine touchdown drives, seven were on five plays or less as it faced only six third downs, converting two of those, while New Mexico St. was only 4-15 on its third down conversion attempts.