2022 Washington Huskies Preview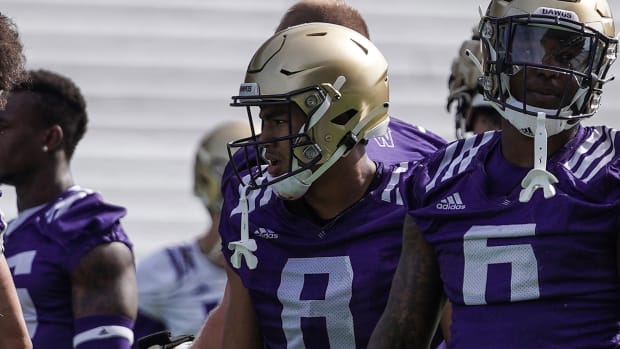 Washington Huskies
2021-22 Season Record 4-8 (3-6 Pac 12 North) - 3-9-0 ATS - 3-9-0 O/U
Returning Starters
Offense - 8
Defense - 5
Overview
After going 0-12 in 2008, which was its fifth straight losing season, Washington cut ties with head coach Tyrone Willingham and brought in Steve Sarkisian who turned the program around, finishing with four consecutive winning seasons before leaving for USC. The Huskies brought in Chris Petersen who made a name for himself at Boise St. and he brought that winning culture to the program where he had six winning seasons, including three with double-digit victories, before he stepped down in 2019. Jimmy Lake lasted 13 games before he was fired for misconduct and now it is Kalen DeBoer running the show after a 9-3 record at Fresno St. last season. The situation in Washington last year was toxic which let to a 4-8 record but DeBoer comes into a good situation with 13 starters back, plus a shiny quarterback transfer, and a returning production ranking of No. 35.
Offense
Despite returning 10 starters on offense, Washington regressed by 79 ypg from 2020 and finished No. 114 in total offense and No. 107 in scoring offense. To their credit, there was simply no cohesion with the coaching moves and the offense derailed in the latter half of the season. DeBoer knows offense as he led the Bulldogs to a No. 14 ranking last season and he brought in Indiana transfer Michael Penix, who he coached in 2019, to lead the offense. He had potential but could not stay on the field as he never played more than six games in a season so it will be up to the offensive line with four returning starters to keep him upright. Two of the top three receivers are back and either Jalen McMillan or Rome Odunze has to emerge as the No. 1 guy. The Huskies lost their leading rusher but brought in a solid transfer from Virginia as Wayne Taulapapa enters the backfield.
Defense
As is the trademark of the Washington program, the defense was solid last season keeping a majority of the games close as five of the eight losses were by just one possession. The Huskies finished No. 25 in total defense and No. 39 in scoring defense but they have to replace six starters. The one big negative from last season was that Washington could not stop the run as it finished No. 109 in rushing defense but it is now bigger in the middle of the defensive line that will work inside potential star end Zion Tupola-Fetui who is back healthy after missing 10 games last season with an injury. The linebacking corps will rely on a pair of transfers to fill some big shoes but Carson Bruener returns after finishing second on the team with 70 tackles. The secondary takes the biggest hit as both corners have to be replaced but the safeties are in decent shape with three veterans in the mix.
2022 Season Outlook
After playing only four games in 2020, expectations were high last season as Washington came into the season ranked but a season opening loss to Montana followed by a blowout loss to Michigan set the tone for the season with the four victories coming against teams that finished a combined 11-37. While expectations are not nearly as high, there is potential for a fantastic season with the right personnel in place and a schedule heavily in their favor. Washington opens the season with four straight home games with three likely wins and Michigan St. which would be a statement win. Three of the last five games are on the road with only UCLA and Oregon being the bad ones and the Huskies miss USC and Utah altogether. The O/U win total is set at 7.5 and they should be able to surpass this number with a favorable home slate of seven games and three winnable road games.